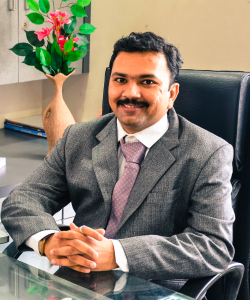 Dr. Prajakt M. Binayake is rendering his services as a dental surgeon in Aurangabad since 2005.
He has attended numerous CDE (Continual Dental Education) training programs regularly to be in touch with all the latest trends in dentistry through out the world and is implementing the same to render best treatments to his patients.
Dr. Prajakt Binayake  also conducts  training programs for dental students
He has an expert team of Maxillo-facial Surgeon, Orthodontist , Paediatric dentist , Periodontist ,and is associated with one of the best Dental  Labs  in the country to deliver the best possible treatment to his patients. Also , we have well trained staff and emergency medicines ready to cope up with any medical emergencies very efficiently  if at all it occurs.
"House Of Dentistree"  is well equipped with all the latest gadgets , best in class instruments , latest Software and very friendly staff  to make the patients treatment experience pleasant .
We understand our responsibility towards wellness of our patients , in this regard We  follow strict sterilization procedures to prevent cross infection which is a biggest concern today.
At House Of Dentistree we are "committed to dental excellence " and  we strive to achieve the same.
House of Dentistree offers a wide range of dental treatments by employing ultra modern equipment's & methods at par with international standards while closely studying individuals needs. Our experts & friendly team strive regularly to fulfill our patients expectations at competitive pricing. We are associated with the most ultra modern dental laboratories of the region to provide best possible treatments to our patients.
OUR VALUES
Excellence
Integrity
Collaboration
Courtesy
Compassion
Diversity
Professionalism
MISSION STATEMENT
Our mission is to provide the highest quality life time dental care in a professional, caring and comfortable environment. We are confident that our services and friendly staff will exceed your expectations and make you feel right at home. The purpose of our team is to provide and deliver the most innovative, technologically advanced and comfortable dental care to our patients. Our comprehensive dental treatment philosophy will improve our patients overall health and consequently enhance the quality of their life. We will strive to change our patients' perception of dentistry so not only will they be appreciative of the care they receive, but will entrust us with the care of their family and friends as well.
QUALITY STATEMENT
We maintain the highest standards and achieve them by continually measuring and improving our outcomes.
INNOVATION
We welcome change, encourage invention and continually seek better, more efficient ways to achieve our goals.
TEAMWORK
We collaborate and share knowledge to benefit patients and fellow caregivers for the advancement of our mission.
SERVICE
We strive to exceed our patients' and/or fellow caregivers' expectations for comfort and convenience.
INTEGRITY
We adhere to high moral principles and professional standards by a commitment to honesty, confidentiality, trust, respect and transparency.
COMPASSION
We demonstrate our commitment to world-class care by providing a caring and supportive environment for our patients, patients' families and fellow caregivers.
ABOUT AURANGABAD

Aurangabad is a city in the Aurangabad district of Maharashtra state in India. Aurangabad is named after the Mughal emperor Aurangzeb. The city is a tourism hub, surrounded by many historical monuments, including the Ajanta Caves and Ellora Caves, which are UNESCO World Heritage Sites, as well as Bibi Ka Maqbara. The administrative headquarters of the Aurangabad Division or Marathwada region, Aurangabad is titled "The City of Gates" and the strong presence of these can be felt as one drives through the city. Aurangabad is Tourism Capital of Maharashtra.
| | |
| --- | --- |
| | |
| Ellora Caves | Ajantha Caves |
| | |
| Daulatabad Fort | Bibi-Ka-Makbara |